Fintech Association of Japan (Chuo City, Tokyo. Representative Directors: Takashi Okita / Yasuhiro Kimura / Takeshi Kito) concluded a memorandum of understanding (MOU) with GIFT City on August 26, 2022. We will offer mutual support for the improvement of the Fintech ecosystem.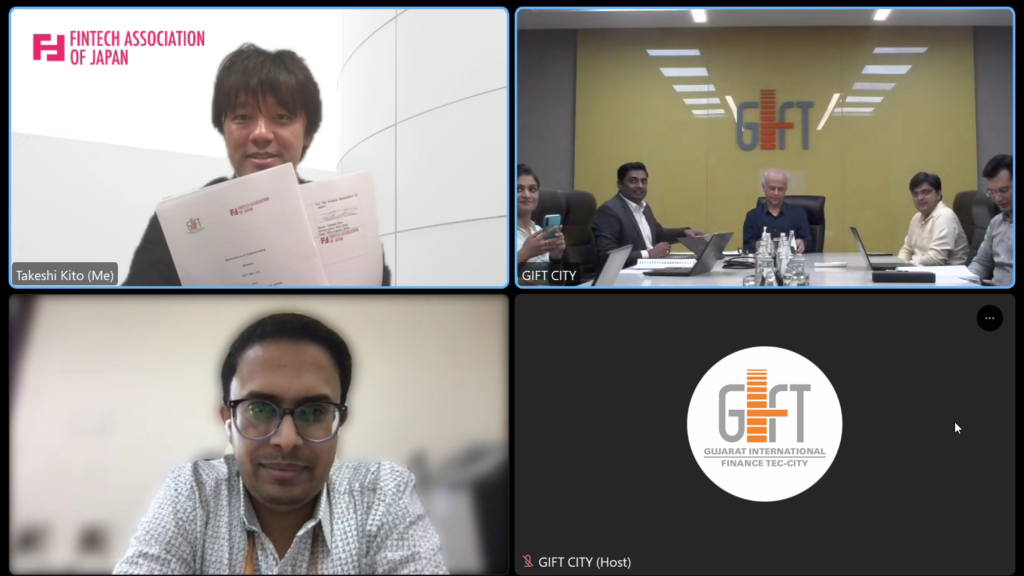 About GIFT City
GIFT City is India's first operational smart city and International Financial Services Centre (IFSC), GIFT City is an emerging global financial and IT services hub, a first of its kind in India, designed to be at or above par with globally benchmarked business districts. It is supported by state-of-the-art infrastructure encompassing all basic urban infrastructure elements along with an excellent external connectivity. GIFT City also provide conducive business ecosystem with ease of doing business, competitive tax regime, quality of life and many more advantages.
Excerpt from GIFT City's Media Release
Gandhinagar, August 26: GIFT City—India's first operational smart city and International Financial Services Centre (IFSC)— has signed a memorandum of understanding (MoU) with the Fintech Association of Japan (FAJ) to strengthen the fintech ecosystem in GIFT City and Japan's fintech community. The MoU was signed by GIFT City's Managing Director and Group CEO Mr Tapan Ray and FAJ's vice-chair Takeshi Kito last week in Gandhinagar, Gujarat.

Notably, GIFT City is emerging as a global fintech hub housing several renowned international firms, including a leading Japanese bank, and the MoU is an indication of the growing significance of GIFT City in the international arena.

As part of the MoU, GIFT City and FAJ plan to promote fintech innovation and a fintech accelerator for encouraging, promoting and supporting fintech startups. Also, the MoU entails conducting programmes related to international financial services, promoting GIFT City as a fintech hub in India and exposing young innovators in the fintech domain to opportunities in India and Japan.

GIFT City and FAJ will also collaborate to design and execute innovation and entrepreneurial programmes like bootcamps, hackathons, and incubation and acceleration in the fintech domain focussed on areas such as payments, lending, financial planning, insurance technology, regulatory technology, wealth management and trade processing among others. The entrepreneurial programmes will also focus on financial inclusion, cyber security, artificial intelligence (AI), blockchain and human augmentation.

Following the signing of the MoU, GIFT City's Managing Director and Group CEO Mr Tapan Ray said, "GIFT City offers one of the best ecosystems for fintech companies in India, which is at par or better than what globally renowned fintech hubs offer. The association with FAJ aims to strengthen and create more value for the entities in GIFT City and spread awareness, knowledge and empowerment in the financial domain. India has a history of adopting disruptive financial technologies like UPI at a much faster rate than several developed nations and I am sure the coming years will be dominated by fintech firms."

GIFT SEZ is an operational multi-services special economic zone within GIFT City and also houses India's first IFSC. GIFT IFSC provides services related to capital markets, offshore insurance, offshore banking and asset management, aircraft and ship leasing, and ancillary services. It houses two international stock exchanges with a combined average daily trading volume of over US$11 billion.