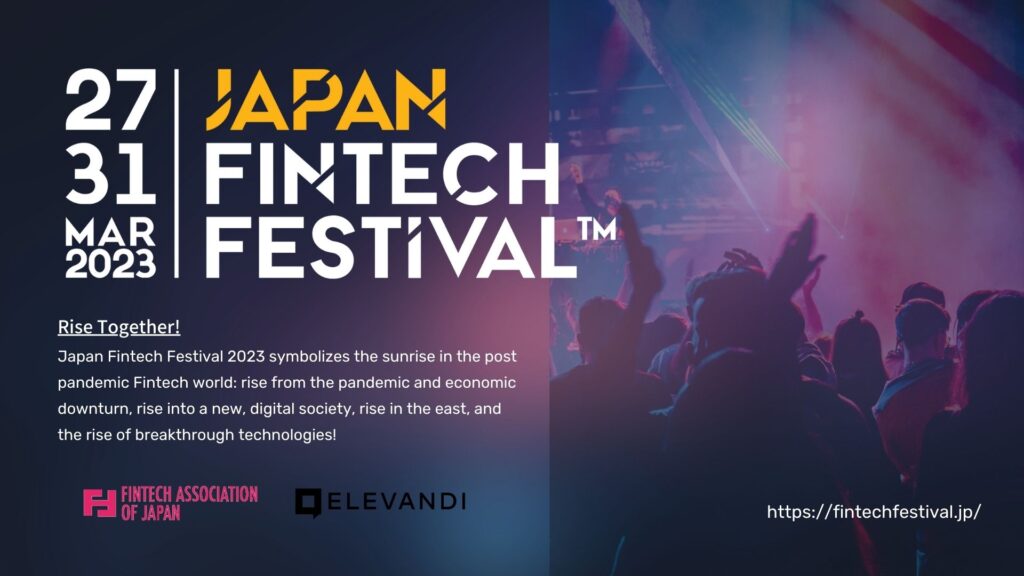 JFF is a platform where Fintech thought leaders from Japan, Asia, and the world come together!
Please check ticket from below URL and join us.
Tickets are free but more funding needed for fostering this Fintech community and your donations to us are highly appreciated.
Contributions over JPY50,000, please ask us from the contact form on this homepage for the partnership program.
For us a partner is much more than a sponsor, besides profiling prominently as a JFF partner on our website and during the event, we encourage partners to synergize elements of the festival and actively collaborate with the platform in a holistic manner.
About
Japan Fintech Festival 2023 symbolizes the sunrise in the post pandemic Fintech world: rise from the pandemic and economic downturn, rise into a new, digital society, rise in the east, and the rise of breakthrough technologies!
In partnership with Financial Services Agency, Singapore Fintech Festival (Elevandi), FINOLAB and Fintech Association of Japan, #JFF23 promises to bring engaged and curated discussions across the Fintech universum bringing leadership from Japan, Asia and the world together, with an emphasis on technology and thought leadership.
Agenda
March 27th (Mon), 2023 13:00-17:30 JST
12:45-13:00 Doors Open
13:00-13:10 Welcome to Japan FinTech Festival
13:10-13:45 Policy – Technology Dialogue Part 1: AI is Back
13:45-14:15 Where ESG & Technology Meet
14:15-14:50 Digital Assets: what's new?
14:50-15:05 Coffee Break
15:05-15:15 Welcome back
15:15-15:50 Policy – Technology Dialogue Part 2: Data and Open Finance
15:50-16:25 The curious case of capital deployment
16:25-17:20 Regional Outlook and Reflection
17:20–17:30 Closing Remarks
Location
FINE Tokyo, 5th Floor, South Tower, Otemachi Financial City, 1-9-7 Otemachi, Chiyoda-ku, Tokyo 100-0004, Japan
https://www.fine-tokyo.com/en/access/