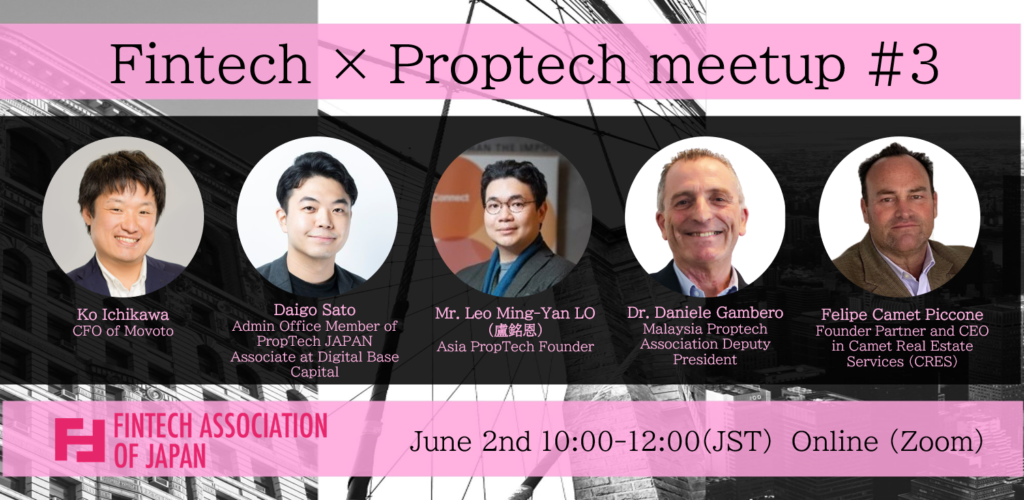 This is the final event of "Fintech x Proptech series" organized by Fintech Association of Japan.
This time, we will introduce the Proptech market with professional guests from around the world.
Feel free to join us to get the latest information!
Overview
■Time(Tentative):June 2nd 10:00-12:00(JST), 9:00am(China, Malaysia),8:00am(Indonesia),8:00pm(Peru)
■Place: Online (Zoom)
■Theme: Fintech×PropTech, Fintech in PropTech
■Organizer: Fintech Association of Japan
【 Schedule & Agenda (Tentative) 】
10:00 Opening

10:05 Keynote 1:Ko Ichikawa

10:25 Keynote 2:Daigo Sato/Nami Hayata PropTech JAPAN

10:45 Guest Keynote 1:Leo(Ming Yan) Lo、Asia PropTech Founder

10:55 Guest Keynote 2:"PropTech & FinTech: Integration and Cooperation Keys to Success" Daniele Gambero、Malaysia Proptech Association Deputy President

11:05 Guest Keynote 3:"Real Estate Financing and Online Transactions Processes with Fintech in Peru" By Felipe Camet Piccone、Co-Founder Vice President in Camet Real Estate Services (CRES)

11:15 Panel Discussion:All of the members above

11:45 Q&A

11:55 Closing
【 About Speakers 】
◆Ko Ichikawa
CFO of Movoto
Ko has worked for Recruit Holdings Co., Ltd., a successful Japanese technology conglomerate with over 350 consolidated subsidiaries which include Indeed and Glassdoor. With Recruit, he worked at SUUMO, a prominent real estate website in Japan. At SUUMO, he gained experience in real estate technology as their Head of New Business Development.
Today, Ko is the Chief Financial Officer at Movoto Real Estate, where he leverages his 10+ years of experience in real estate technology to reinvent the industry by empowering consumers and agents.
As a management member, he led the company to be in the top 5 real estate portal websites in the US by attracting nearly 24 million monthly visits. The company accomplished a successful exit to another real estate tech company and is building a true end-to-end platform for the real estate industry collaborating with the new parent company group.
◆Daigo Sato
Admin Office Member of PropTech JAPAN /Associate at Digital Base Capital
Spent his childhood abroad and returned to Japan for high school. After attending Keio University, he transferred to a university in California, USA.
While studying in U.S., he had a long-term internship as a sales representative at a Silicon Valley startup.
After graduation, he returned to Japan and worked at PwC Advisory LLC. He was involved in a wide range of projects, including strategy development and business due diligence (BDD) work in the area of M&A in a wide range of industries, including real estate, as well as financial modeling for infrastructure businesses.
He joined Digital Base Capital in October 2019. He is also involved in the launch and operation of ConTechLAB.
◆Mr. Leo Ming-Yan LO (盧銘恩)
MEcon BSc (Surveying) MRICS MHKIS RPS(GP)Founder, Asia PropTech /CEO, Fonto Holdings Limited /Adjunct Assistant Professor (Chinese University of Hong Kong Business School) /Guest Lecturer (HKU Space Institute for China Business)
Mr. Leo Lo is a surveyor-turned-serial entrepreneur. Leo is the CEOof FontoHoldings, which is an integrated corporate based in Hong Kong, dedicated to realestate investment, development, financing and advisory with propertytechnology innovations with futuristic and entrepreneurial views. Fonto deliverssolutions in the Asia-Pacific Region for real estate and infrastructure assetprojects financing, investment, valuation and asset management. Leo has been an Estate Surveyor and possesses for over 17 years' experience inthe real estate and capital market industry. With branch offices in the MainlandChina, Singapore and San Francisco, Fonto has extensive footprint in the Asia-Pacific Region. By leveraging Fonto's digital assets and investment in industry-leading portfolio of companies, Leo is developing real estate as a futurist. He is also a founder of a real estate technology company (PropBLK) which isworking on the A.I. and blockchain applications in the real estate sector, withsolutions in AVM and tech-enabled real estate analysis. He is a trailblazer in thePropTech industry and actively forges partnerships with PropTech companies inthe globe and building up the ecosystem: Asia PropTech, synergizing the forcesand knowledge from PropTech startups, real estate players and investors to co-create ideas and solutions.
Leo is in high demand as a speaker for his thought leadership at differentconferences and summits across the globe, he attended over 40 PropTech/realestate conferences as speaker in over 20 countries in the past 2 to 3 years. Heis keen to deliver collaborative innovation to the real estate industry. Leo is the RICS (Royal Institution of Chartered Surveyors) Excellent YoungAchiever of the Year 2016 and he is also well connected in the society by being aChairman Member (PropTech and Blockchain) of Guangdong-Hong Kong-Macao-Bay Area Economic and Trade Association, Executive Committee Member ofShanghai-Hong Kong Coalition of Professionals, Founding member of Hong Kong-ASEAN Economic Cooperation Foundation, etc.
◆Dr. Daniele Gambero
Deputy President of Malaysia PropTech Association Propenomist, co-founder and CEO of REI Group, deputy president of the Malaysia PropTech Association and Digital Marketing Innovator
Passionate property knowledge giver, analytic in his assertion on properties, Daniele has helped developers and government agencies in South East Asia spearheading affordable housing through big data analysis and his Propenomy Modelling.
Co-founder and Propenomist of Propenomy.com, a digital platform offering strategic and highly integrated data analysis to property developers and an open discussion platform to help adapting to the digital change.
Expatriate from Italy in Malaysia since 1998. He holds a Master in Macroeconomy, a MA in Marketing and a PhD in Strategic Marketing and Mass Communication.
He is a well-known and sought-after international and TEDx speaker and a strategic advisor for Malaysian developers and state & government agencies.
◆Felipe Camet Piccone
Founder Partner and CEO in Camet Real Estate Services (CRES)
Camet counts with 26 years in the Real Estate and Construction Industry, and 20 as Founder Partner and CEO in Camet Real Estate Services (CRES) where he offers the complete spectrum of integrated RE and Construction services for all the territory of Peru. As CRES leader, firm with a strong trayectory and 100% of Peruvian Capitals, leader in this sector, and counts with an in house powerful organizational structure that allows to form new services divisions and growth throughout alliance partnerships or commercial agreements, as strategic local partners.
Active player of the Proptech and Construtech in the RE and Construction Industry of Peru and LatAm since 2018. He is Cofounder and actual Vice President of the Association and Ecosystem of Proptech and Construtech Peru, and big promotor of the innovation and digitalization of our industry in order to -improve the quality, leisure and level of life for all Peruvians-, by offering better and improved tecnified quality services and projects' products in housing, offices and commercial areas for all Peruvians.
Felipe acts in: Consultancy, Brokerage, Property Management, Asset Management, Project Management, Construction Sites Supervition, Appraisals, Capital Markets, Capital Ventures, Counselor in RE Investments, in between others. Counsels also in Peru to the referred clients of the main larger Multinationals in our industry.
He is a RE advisor and counselor for the Peruvian and LatAm's RE, as well in constant press releases participations.
Does also: Appraisals, Higher and Best Uses Studies (HBU), Commercial and Residential Projects Structuring, of Mixed and Alternatives Uses, for sale and/or lease (for Students, Senior Citizens, Residential and Multi Family's). Economical and financial projects analysis. Price and Value Opinions.
Works with the REIT's, and institutional and private inventors funds of Peru and International.
Counts with a high and rich local and global network in the industry of RE and Construction.
Knowledgeable and practiced with different studies and analysis of our market, and publishes METROS CUADRADOS | M2, quarterly.
Camet participates as speaker, panelist and moderator in the field's events in Peru and LatAm, and is an active member of the Global Real Estate Institute (GRI).
He acts in the areas of offices buildings (all commercial) and residential, and industrial/logistics parks, residential urbanizations, retail (commercial units, and strips, power and city malls), hotels, and in the health and educational sectors. Project Management and Construction Supervition Sites in varied assets class, including internal constructuction, upgrades, lifts, among others.
■Takafumi Ochiai
Partner, Atsumi & Sakai
Managing Director, Fintech Association of Japan
■Takeshi Kito
Founder, CrowdRealty Inc.,
Vice-chair, Fintech Association of Japan
Takeshi is a vice-chairman of the Fintech Association of Japan and leads Capital Markets Committee and RegTech&SupTech Committee.
He is also the founder & CEO of P2P real estate equity crowdfunding marketplace, Crowd Realty.
In addition, he sits on an advisory committee for the Government of Japan's Regulatory Sandbox.
Prior to establishing Crowd Realty, he worked for Merrill Lynch as an investment banker and has 5 years experience in capital markets.
Before joining Merrill Lynch, he worked at Boston Consulting Group.
He holds bachelor's and master's degrees in architecture from the University of Tokyo.
Free Tickets